PRO MICRO module 5V/16MHZ For Arduino
Description:
The Pro Micro is an for Arduino compatible microcontroller development board based on the ATmega32U4 IC
designed by Sparkfun Electronics. It is based around the for Arduino Leonardo which means you no longer need an addition USB-Serial Interface to program your for Arduino. Just plug in the board, download the addition for Arduino add-on and your ready to start programming!
The board is broken down into 24 individual pins and has 3 indication LEDs, one of which is dedicated to power. It features 4 channels of 10-bit ADC, 5 PWM pins, 12 DIOs as well as hardware serial connections Rx and Tx. This version run on 3.3V at 8 MHz and can also run on 12V supplied to the "RAW" pin.
Features:
ATMega 32U4 running at 5V/16MHz
Supported under IDE v1.0.1
On-Board micro-USB connector for programming
4 x 10-bit ADC pins
12 x Digital I/Os (5 are PWM capable)
Rx and Tx Hardware Serial Connections
Schematic link: https://www.dropbox.com/s/prza83v5qbjxdnh/Pro-Micro-v11-5V_B.pdf?m
Package Include:
1* Pro Micro module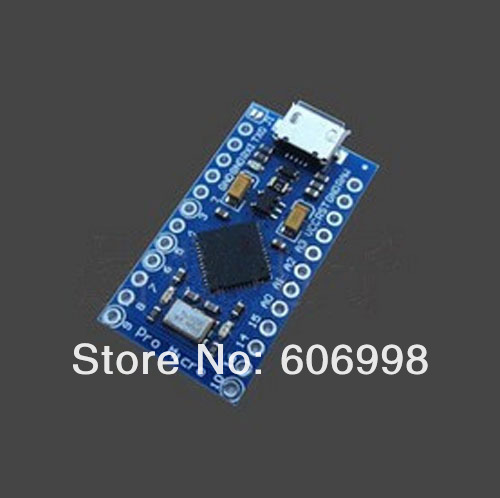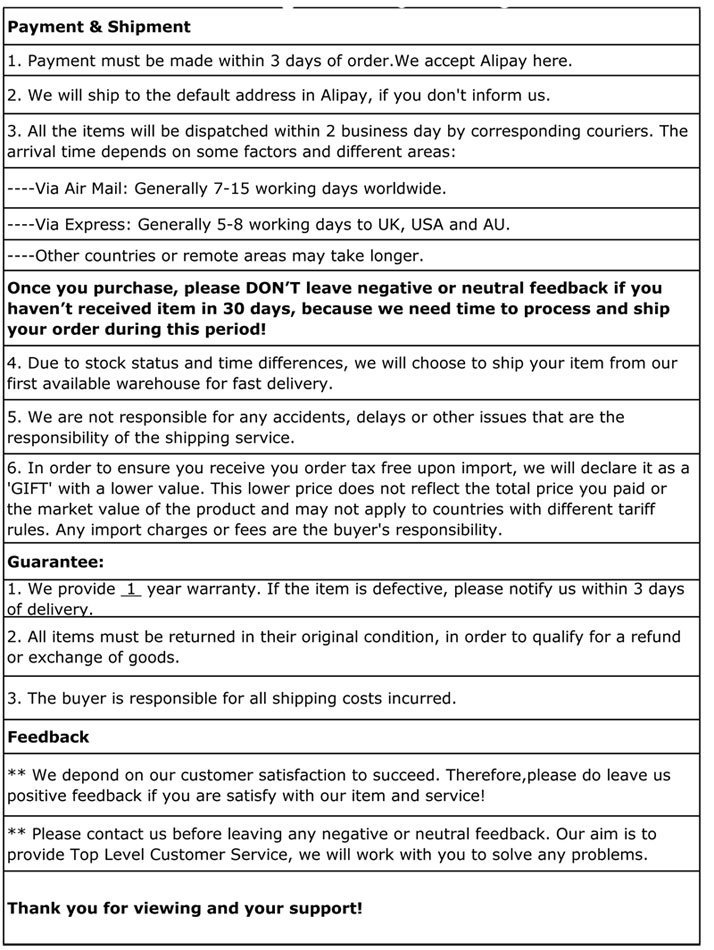 MB-102 830 Position Point Solderless PCB Breadboard + 65pcs Jump Wire Male to Male Jumper Wire
US$ 5.95/piece
2pcs/lot MAX7219 dot matrix module control module For Arduino SCM module display module
US$ 9.86/lot
2 pieces / lot
5pcs/lot Webcam 5000000 Pixels Camera For Raspberry Pi
US$ 181.00/lot
5 pieces / lot
2.4 inch TFT touch LCD Screen Module For Arduino UNO Free Shipping
US$ 9.99/piece
Multi function USB SPI 25X BIOS programmer MSI motherboard JSPI online programming interface
US$ 10.80/piece
5pcs/lot Infrared emission sensor module KY-005 For Arduino
US$ 17.60/lot
5 pieces / lot
2set/lot 2 in 1 8*8 array three color common LED RGB dot matrix display module+ 8*8 LED RGB Matrix Dot matrix LCD driver board
US$ 53.40/lot
2 sets / lot
VK16U6 ublox GPS Module with Antenna TTL Signal Output,Free Shipping
US$ 17.49/piece