Mini MP3 Player Module For Arduino Open Source
Description:
DFPlayer Mini is a MP3 module, can be directly connected to the speaker. Module with battery, speaker, keys can be used alone, can also be controlled through the serial port, as UNO or for for Arduino any with serial port module of MCU
The module itself perfectly integrates the hard decoding of MP3, WAV, WMA. At the same time the software support TF card drive, support FAT16, FAT32 file system. Through a simple serial port instruction to complete the play the music, as well as how to play music and other functions, without the cumbersome underlying operating, use convenient, stable and reliable.
Technical specifications:
Supports sampling rate (KHz): 8/11.025/12/16/22.05/24/32/44.1/48
24 bit DAC output, dynamic range support: 90dB, SNR support: 85dB
Full support for FAT16, FAT32 file system, the maximum support 32G TF card, 32G U disk, 64M byte NORFLASH
The multi control mode is optional. IO control mode, serial port mode, AD key control mode
Broadcasting Language breaks function, may suspend the currently playing background music. Advertising played complete back to the background music to keep playing
Audio data according to sort the folders, supports up to 100 folders, every folder can be assigned 255 tracks
30 stage volume adjustable , 6 stage EQ adjustable
Application:
1, vehicle navigation voice broadcast
2, highway transportation check, toll station voice prompt
3, train station, bus station security check voice prompt
4, electric power, communication, finance hall voice prompt
5, the vehicle in and out channel, verify the voice prompt
6, * * border check channel voice prompt
7, Multichannel voice alarm or device operation guide voice
8, Safety driving voice notice for electric sightseeing vehicle
9, Mechanical and electrical equipment fault automatic alarm
10, fire voice alarm
11, automatic broadcasting equipment, timing broadcast.
Package Included:
1 * Mini MP3 Player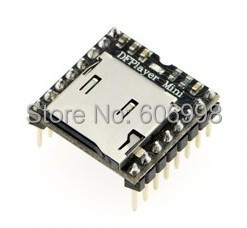 5pcs/lot DHT22 Digital Temperature and Humidity Sensor AM2302 Module for Arduino Free Shipping Dropshipping
US$ 39.99/lot
pieces / lot
5pcs/lot Buck And Boost Voltage Converter Voltmeter Display 5-25V DC-13
US$ 39.63/lot
pieces / lot
DC-DC Adjustable Boost And Buck Voltage Converter DC-12
US$ 9.81/piece
5pcs/lot DC-DC Efficient Synchronous Power Rectifier Module With Voltmeter Display 4.5-24V Super LM2596
US$ 32.77/lot
pieces / lot
5set/lot 5V 20W 2.1 Channel 3D Surround Digital Audio Power Amplifier 2.1 Power Amplifier Board 20 W + Adjusting Plate MP025
US$ 27.78/lot
sets / lot
1W LED Driver 350mA PWM Dimming Input 5-35V DC-DC Buck Constant Current Module
US$ 5.10/piece
Temperature Sensor LM35DZ TO92
US$ 3.58/piece
25 Kind Of 2.4 To 27V 0.5W Voltage Regulator Tube Each Kind Of Specification 10
US$ 11.15/piece