GPS Shield For Arduino With SD Card Slot And Antenna
Description:
The expansion board is designed for Arduino UNO design GPS record expansion board. Provides 2 kinds of GPS antenna interface.Operating floor support for 3.3V and 5V 2 level (such as leaf maple), with a plurality of analog pin of the IO interface extraction, can be directly connected to electronic building blocks to achieve rapid prototype development. With an SD card slot, supports the GPS information recording.Can be used with the FT232RL module, the FT232RL module's TX, RX, VCC, GND received the GPS corresponding to the feet, through the serial debugging software to view the corresponding data.
Characteristic:
1 provides the operation level 3.3V and 5V selection, this can compatible with more floor – such as 3.3V ChipKit UNO32, leaf maple and other platform floor, compatibility stronger.
2 use active GPS antenna.
3 the jumper to set TxD and RxD connect to the Ardino pin you need
(D0-D8 optional), is more scalable than. directly connected to the D0D1
4 provides a plurality of electronic building interface, convenient and quickly access to all kinds of electronic building blocks, add button, LED display or relay switch function.
5 TF card, SPI interface. Support for the for Arduino library.
6 with the reset button, can be directly reset for Arduino plate
Package Included:
1 * GPS shield
1 * Antenna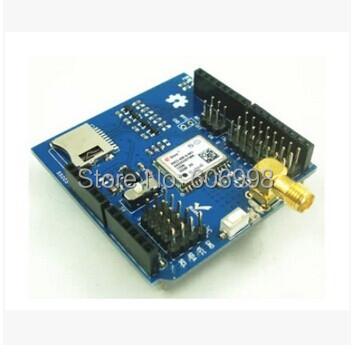 2pcs/lot USB Host Shield 2 For Arduino ADK Compatible With Google Android ADK
US$ 26.70/lot
pieces / lot
KIS3R33S 7V-24V To 5V/3A Synchronous Rectification DC-DC Step-down Power Supply Module
US$ 8.04/piece
BH1750FVI Digital Light Sensor Module
US$ 12.87/piece
5pcs/lot Battery Overvoltage Undervoltage Detection Sensor Module For Arduino
US$ 24.99/lot
pieces / lot
Infrared Carbon Dioxide Sensor Module MH-Z14 Serial Port PWM Analog Output
US$ 82.41/piece
10pcs/lot 10mm Non Pressure Type Magnetic Induction Detection Sensor Approach Switch
US$ 51.22/lot
pieces / lot
10pcs/lot Battery Overvoltage Undervoltage Detection Sensor Module For Arduino
US$ 46.67/lot
pieces / lot
5pcs/lot High Temperature Resistant Temperature Sensor Probe LM35AH Analog Voltage Output
US$ 68.15/lot
pieces / lot