STM32 small board with the STM32F407VET6 MCU, full IO expander, JTAG/SWD debug interface.


USD 27.99/pieceUSD 175.99/pieceUSD 25.99/pieceUSD 24.99/pieceUSD 74.99/pieceUSD 107.99/pieceUSD 59.99/pieceUSD 102.99/piece
Overview
Core407V is a small STM32 development board that features an STM32F407VET6 device as the microcontroller, supports further expansion. It is ideal for starting application development with STM32F family.
As a minimal ready-to-run system, the Core407V integrates USB communication interface, JTAG/SWD programming/debugging interface, 8I/Os and UART1 testing interfaces, clock circuit, USB power management, boot mode selection, and so on.
Furthermore, pin headers on the backside allows the Core407V to be plugged-in your application board and act as the MCU core circuit in your system. On this occasion, the 8I/Os and UART1 section can be divided from the Core407V for smaller size.
What's on Board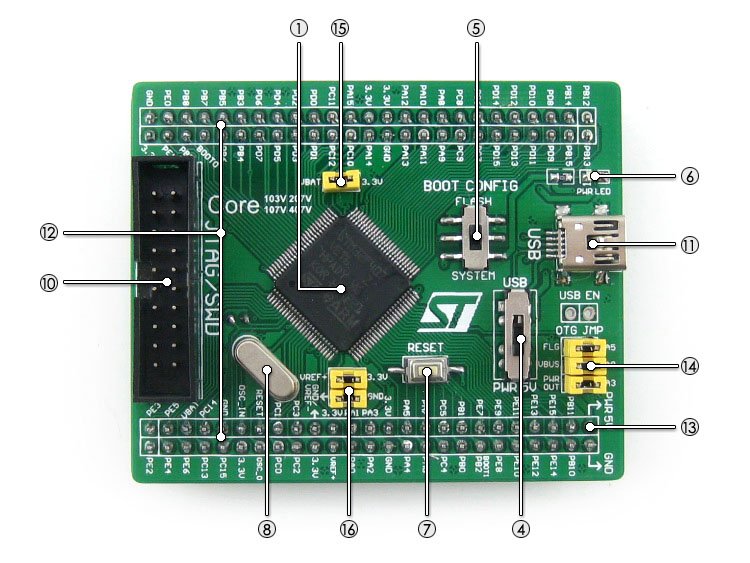 1. STM32F407VET6: the high performance STM32 MCU which features
* Core: ARM Cortex-M4 32-bit RISC;
* Feature: a full set of single-cycle DSP instructions
* Operating Frequency: 168MHz, 210 DMIPS/1.25 DMIPS/MHz
* Operating Voltage: 1.8-3.6V;
* Package: LQFP100
* Memories: 512kB Flash, 192+4kB SRAM;
* MCU Communication Interfaces:
– 3 x SPI, 3 x USART, 2 x UART, 2 x I2S, 3 x I2C
– 1 x FSMC, 1 x SDIO, 2 x CAN
– 1 x USB 2.0 FS/HS device/host/OTG with on-chip PHY
– 1 x 10/100 Ethernet MAC
– 1 x 8 to 12-bit parallel camera interface
* AD & DA converters: 3 x AD (12-bit, 1?s, shares 24 channels); 2 x DA (12-bit);
* Debugging/Programming: supports JTAG/SWD (serial wire debug) interfaces, supports IAP;
2.AMS1117-3.3: 3.3V voltage regulator
3. Power supply switch, powered from 5Vin or USB connection
4. Boot mode switch, for configuring BOOT0 pin
5. Power indicator
6. Reset button
7. 8M crystal oscillator
8. 32.768K crystal, for internal RTC with calibration
9. JTAG/SWD interface: for debugging/programming
10. USB connector, used for establishing USB communication between PC and the STM32 development board
11. IO expander (including VCC/GND), all the MCU pins are accessible on expansion connectors for further expansion
13. 5Vin pinheader, 5V power supply is required when using USB HOST/OTG
14.USB jumper
*short the jumper to when using USB
*open the jumper to disconnect from I/O ports
15.VBAT selection jumper
*short the jumper to use system power supply
*open the jumper to connect the VBAT to external power, such as battery
16.VREF selection jumper
*short the jumper to connect VREF+/VREF- to VCC/GND
*open the jumper to connect VREF+/VREF- to other custom pin via jumper wire Photos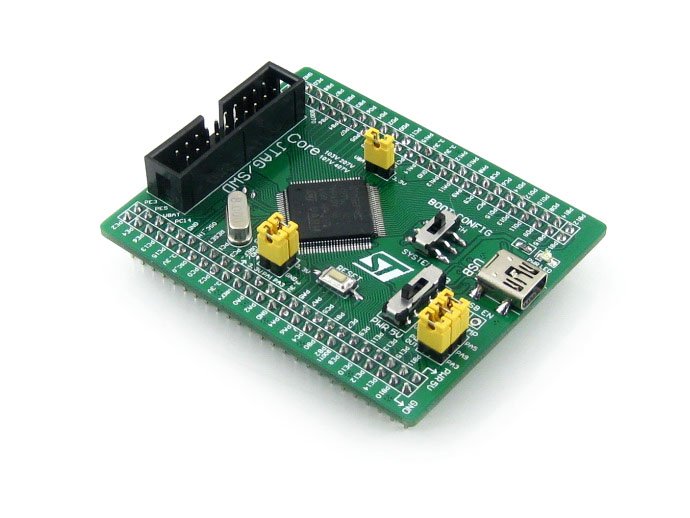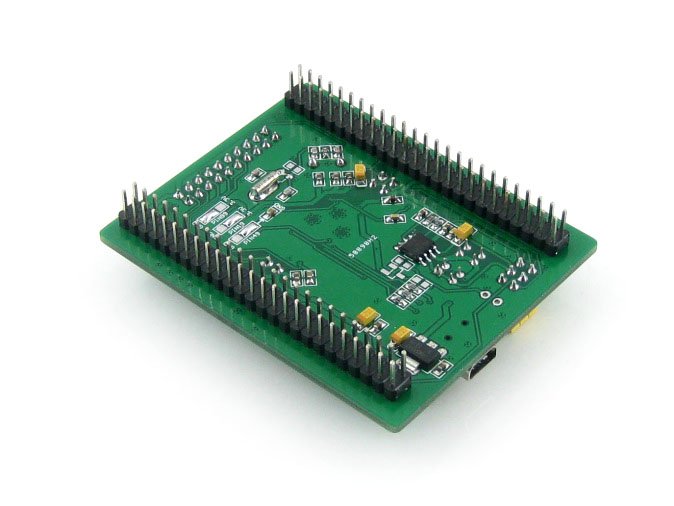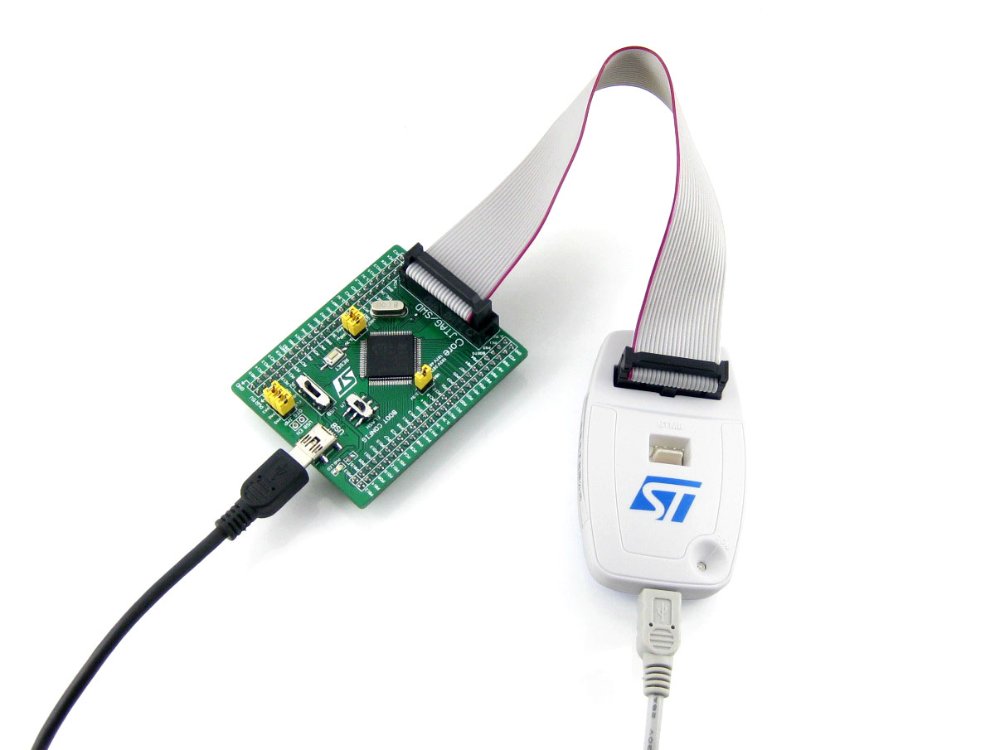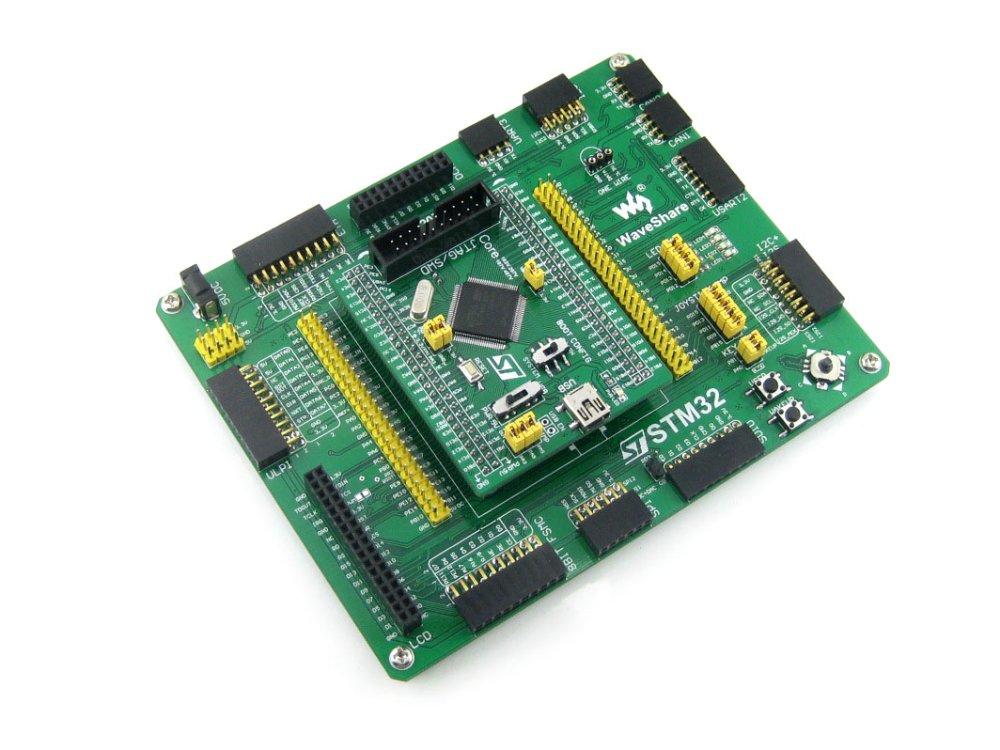 Note: Core407V provides JTAG/SWD debugging interface, yet does NOT integrate any debugging function, a debugger is required.
Accessory board and programmer/debugger in the photos are NOT included in the price. JTAG/SWD Interfaces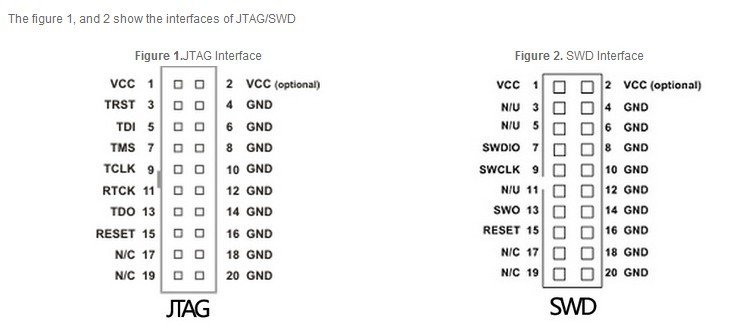 Development Resources
Core407V STM32 development board comes with a User Guide CD including development resources listed as below:
1. Related softwares (KEIL etc.)
2. Examples in C
3. Schematic (PDF)
4. Development documents
Package Contains
1. Core407V Development Board x 1
2. USB type A to Mini-B cable x 1
3. User Guide CD x 1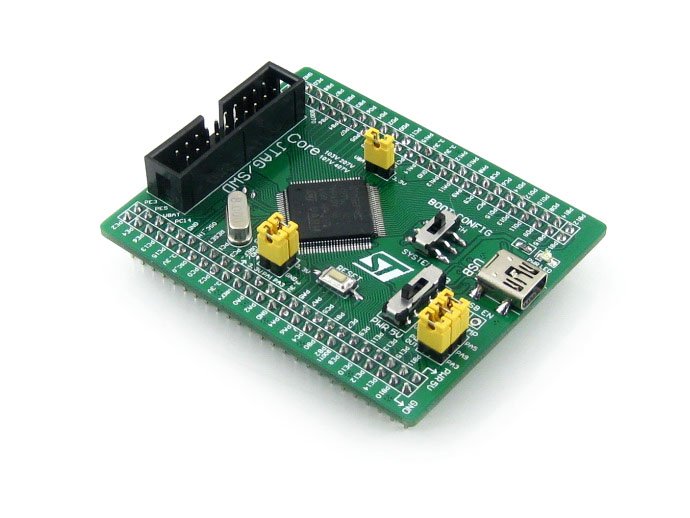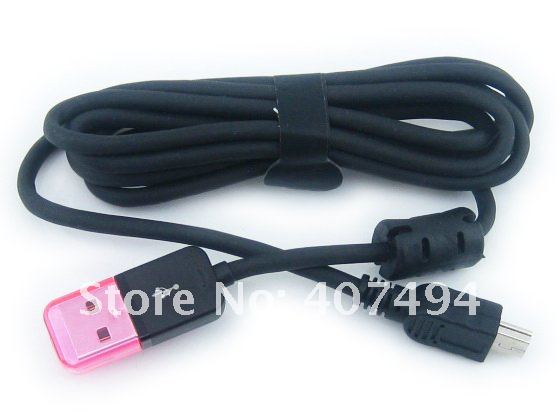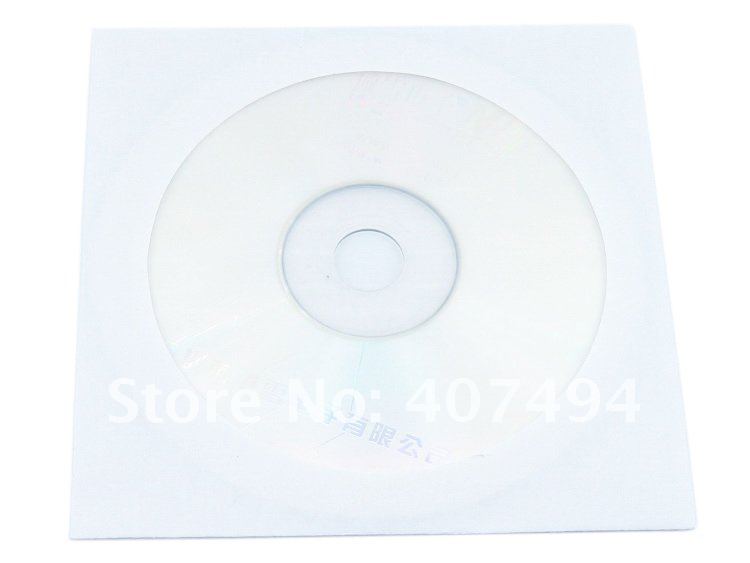 Terms & Conditions
1. Payment:
* We accept Escrow as the payment method. Currently, you can pay by Visa, MasterCard and bank transfer. For more information about making payment, please go to 'Escrow FAQ' to get more details. http://escrow.aliexpress.com/escrow-faq/payment/what-payment-methods-can-i-use.html
2. Shipping:
* We ship items to Worldwide!
* Please make sure that your shipping address is 100% correct.
* All items will be shipped within 48 working hours on receipt of cleared payment.
* We'll add a tracking number after sending the item so that you can track your parcel.
3. Returns Policy:
* We are happy to return any unused item in its original packaging within 14 days of delivery.
* Buyers are responsible for the round(two-way) shipping cost.
4. Feedback:
* We'll leave 5 star POSITIVE FEEDBACK after customers confirm the orders.
* If you're satisfied with the item and our service, please leave POSITIVE FEEDBACK, it's important to us.
* Once any problems occured, please contact us first. We'll try our best to work things out.
Please feel free to contact us for any questions, on trademanager, or send message to me. If you need to adjust the total price, pls contact us in advance. It's our pleasure to serve you! We appreciate your business!!