Motor Control Shield For Arduino L293D Motor Board
Description:
* 2 5V servo motor (servo) port to the for Arduino high resolution and high precision timer – no jitter!
* up to 4 bidirectional DC motor and 4 PWM speed (approximately 0.5% of the resolution)
* up to 2 stepper motor control, single / double step control, staggered or subdivided and rotation angle control.
* 4 H- bridge:L293D chip each of the Luqiao provide 0.6A (peak 1.2A) current and with heat power, 4.5V to 36V.
* pull-down resistors maintain the motor stop status in power.
* large terminal terminal to make wiring more easily (10 – 22AWG) and power.
* with for Arduino reset button.
* 2 large external power supply terminal terminal to ensure the logical and motor drive power separation.
* compatible with Mega, Diecimila, & Duemilanove.
* provide a full range of parts available to DIY enthusiast DIY.
Package Included:
5 * Motor Control Shield L293D Motor Board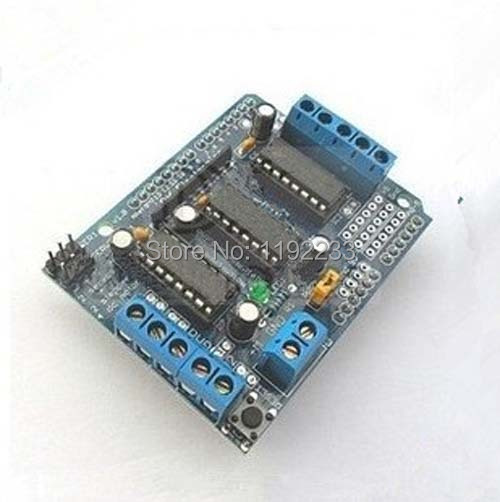 5pcs/lot STM32 Development Board Learning Board Cortex M3 ARM Development Board STM32F103 Experimental Board ARM
US$ 168.52/lot
5 pieces / lot
10pcs/lot 16A ATMEL AVR ATmega16A Chip AVR MCU Development Board
US$ 23.70/lot
10 pieces / lot
5pcs/lot Nano 3.0 Atmel ATmega328 Mini-USB Board For Arduino
US$ 35.37/lot
5 pieces / lot
10pcs/lot 5V 16M pro mini module ATMG328 large spot High quality for Arduino
US$ 39.81/lot
10 pieces / lot
DIY Learning Board Kit STC89C52 51/AVR MCU Development Board/Learning Board Spare Parts
US$ 9.01/piece
5pcs/lot Mega 2560 Board + USB Cable for Arduino Compatible
US$ 76.11/lot
5 pieces / lot
10pcs/lot For Arduino Due 2012 R3 ARM Version Main Control Board
US$ 190.18/lot
10 pieces / lot
AVR Minimum System Board ATMEGA16 Minimum System Board
US$ 6.48/piece